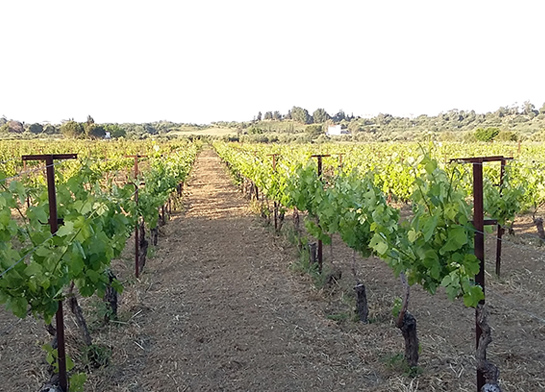 The Vineyards
The vineyards of Domaine Foivos, the core of the historical vineyard of Katogi in Kefalonia, are the continuity of the Kefalonian wine evolvement through history, from antiquity till present day.
Vines of local and autochthon (prior to fylloxera, without an American subject) varieties flourishing at the low altitude fields of the south-western confines of Ulysses' kingdom, carry on their legacy as the vine-land of ancient Pali, reaching us today as indigenous varieties growing in a "Homeric" natural environment.
In the 60 acres of the privately owned vineyards of the estate, located in the area of Paliki - in one of the two major vineyards of Kefalonia - in a plain enclosed by small hills, in the Vatsa Katogi area, are cultivated with mild and biodynamic methods, rare clones of ancient grape varieties such as Mavrodaphne, Muscat, Muscatel, Tsaousi, Vostilidi, Thiako, Araklino. Moreover, there are cooperating vine growers in the same area (with vineyards of about 100 acres). At the same time, the winery manages vineyards in the eastern part of the island, as well as in the region of Omala, for the production of the well-known local variety Robola of Cephalonia.
Of the above varieties grown and thrived in the territories of Paliki, are produced two PDO Sweet Wines, Mavrodaphne of Cephalonia and Muscat of Cephalonia (historically known to have monopolized the Venetian market after 1500), as well as two PGI Mantzavina Wines (white and red).
Photographs from Vineyards